En liten kavalkad med några kort som jag gjort för Vilda Stamps.
Written by -
Anita
Bloggar i dag hos Vilda Stamps med denna layouten:
Written by -
Anita
Welcome to Vilda Stamps first Blog Hop!
On Sunday, June 9, 2013 we will pick one winner to receive
300 Skr gift certificate to the Vilda Stamps store!
Here is my project to share with you all today!
For this layout I used 4 different stamps from Vilda Stamps.
I colored a white paper with Distress Inks;
Tattered rose, Stormy sky and Chipped sapphire.
I then used 3 different stamps to make my own pattern paper;
V567;"Collage with lily", V435;"Twigs kit"
and the Crackle background from V741;Scrap & Mixed media kit 1.
For the background I stamped with V383;"Splash Background"
Hope you all liked it!
***
Back to the Hop!!
Here is a list of the stops today. When you visit each one
remember to leave a comment at every stop.
AND put Vilda Stamps clock banner in your side bar!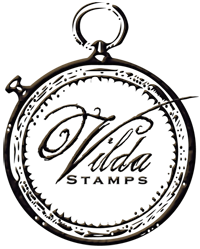 And now…
Just Hop around and enjoy the creations!
Vilda Stamps (Sweden)
MiloLilja (Sweden)
Anna Lilja (Sweden)
Anne Kristine (Norway)
Dunja (Germany)
MezzaNotte (Sweden)
Anita/Anili (Sweden)You are HERE now!
Irene Tan (Malaysia)
Filharmonica (Norway)
Sari (Sweden)
Carina (Sweden)
Tina(Sweden)
Lotta (Sweden)
Marina (Germany)
Written by -
Anita
Här kommer ett lätt pyssel du kan göra med de söta påskstämplarna som nu finns i Vilda Stamps sortiment!
Små placeringskort till Påskbordet!
Jag har målat stämplarna med Distress Markers och vattenpensel. Men det går lika bra att måla med vanliga färgkritor, tuschpennor eller liknande.
Varför inte låta barnen eller kanske barnbarnen hjälpa till att måla!
Det behöver inte vara perfekt, pyssla och ha kul ihop vet jag!
Några närbilder:
Lycka till med ditt påskpyssel!
Written by - Anita
Nej nu var det länge sedan jag uppdaterade här!
Här kommer då en layout som , om jag får säga det själv, blev väldigt nöjd med!
Jag har överraskat mig själv med att använda färgerna rosa och orange ihop!! Har inte hänt tidigare! Blev läckert tycker jag.
Bloggar med denna layout i Vilda Stamp idag.
Har använt mig av en bakgrundsstämpel från det nya "Scrap & Mixed media kitet 2″ för att få till lite djup i layouten.
SÅ FIN I mammas FULA SKOR
På höger och vänster sida av layouten har jag sytt fast en pappersremsa.
Under och runt de 3 fotona är alla dekorationerna samlade.
Först stämplade jag "splasharna". Sedan la jag till remsor av mönsterpapper.
Hittade ett ark; lack cardstock med söta rosa hjärtan som också fick vara med.
Till sist en fjäril gjord med en tonic stans.
Jag tycker att det är viktigt att få med lite egna tankar om de foton jag scrappar,
så för att inte röra till det på layouten skrev jag texten runt hela kanten.
Det står så här:
Ja, du älskade att prova skor, även om det inte alltid var så lätt att få dom på sig. Men med stor koncentration och tålamod så klarar man det mesta.
Men vilka skor är det egentligen du har hittat här? Jag skäms när jag ser dessa skor. Så nötta och ändå använde jag dom!! Hu!
Det var allt för denna gången!
Ha det så bra!
Written by -
Anita